Last Thursday, we hosted our first Drumming Circle and had so much fun. A small group joined us and learned the joy in creating noise in order to relieve stress and create connections. Gail Hamm, program director, describes the experience as a fun way to let go of stress. Through drumming, people may express emotions, reconnect with their inner child, and feel a greater sense of purpose as their noise becomes a part of a larger symphony within the group.
You can join us at our next Drumming Circle, which will take place on Thursday, February 28, from 7-8 PM. No experience is necessary and all instruments are provided.
Drumming Circle is open to the community. For more information, call Tina at (260) 484-9560.
We are excited to introduce two new programs for 2013!
Inner Paletteâ"¢
Join us on Tuesdays from 10 AM to noon for Inner Palette, an expressive experience. Escape to the pleasure of your imagination after a short, relaxing meditation. All art materials will be provided and no art ability or experience is necessary.
Drumming Circle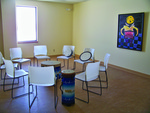 Join us the 4th Thursday of every month from 7 to 8 PM, for Drumming Circle. Come and experience the freedom and joy of play, with no pressure. Express yourself! Instruments will be provided. No musical experience necessary.
Both programs are open to the community. To sign up for these programs, please call (260) 484-9560 or 866-484-9560.