What it's like to work at Cancer Services
Posted on June 26th, 2013
by Linda Bewley, outreach coordinator
A few weeks ago, while I was covering the front desk, a man came in asking if we had wigs and hats.  I told him that we do and after talking for a couple of minutes he said he'd go out to the car and get the person who needed one.  Since he seemed a little hesitant, I first walked him to the wig room door so he could see what we had.  He went outside, and after about 5 minutes of talking to someone in the car, I saw a woman emerge.  She carefully stood up and the two of them slowly made their way into the building. They met with a Client Advocate and later they toured the warehouse. Then, they went into the wig salon.  After a while, the wig salon door opened and out came the woman with a spring in her step, sporting a cute short wig.  But, the best part was she was wearing a huge smile on her face!  She talked to me about wigs and hair and then her smile got even bigger when someone came around the corner, heard our conversation and said that she would never have known the woman was wearing a wig.
That's what we're about here at Cancer Services—helping people during a very difficult time in their lives—giving them an emotional boost when things just seem too overwhelming.   The smile on her face as she left our office made me proud to say I work for Cancer Services.
No Comments
Tags: cancer help, Cancer Services, Wig salon
---
Save the Date- Tribute Dinner, September 12
Posted on June 24th, 2013
Mark your calendar. We will host our annual Tribute Dinner on Thursday, September 12 at a NEW LOCATION. This year's event will be held at The Landmark. Our guest speaker will be Jan Dravecky, wife and caregiver for Dave Dravecky, former San Francisco Giant's pitcher. Invitations will be going out soon. Keep your eyes open for one and plan to join us. The event offers the community a chance to reflect and pay tribute to those touched by cancer in their lives.
Questions? Call Amber at (260) 484-9560 or email arecker@cancer-services.org.
No Comments
Tags: Cancer, Cancer Services, Dave Dravecky, Jan Dravecky, tribute dinner
---
Texas Roadhouse to Donate 10% to us on Thursday
Posted on June 20th, 2013
Take the night off from preparing dinner and head to Texas Roadhouse on Thursday, June 27. That night, 10% of your bill will be donated to our organization. This includes carry out!
No Comments
Tags: Cancer Services, fundraising, Texas Roadhouse
---
Visit Our Healing Garden
Posted on June 17th, 2013
This slideshow requires JavaScript.
On Friday, June 7, the sun was shining and the flowers were blooming as we celebrated the opening of our of long-awaited Healing Garden. Many thanks to the donors and volunteers who helped make this special place possible: Mo Palmer, Don and Vanessa Bender, Michael Himes, Ken Hensch, Steve and Maria DeWald, Brooks Construction, Brotherhood Mutual and Petroleum Traders.
We encourage you to stop by and stroll the meandering path or sit quietly on a chair or bench to reflect. This space is designed to quiet your mind. It's also a lovely spot to visit with a friend. The garden is here for you and your good health.
No Comments
Tags: Cancer Services of Northeast Indiana, Healing Garden
---
Thank you Bravas!
Posted on June 11th, 2013
On Friday, we hosted our 2nd Annual Picnic in the Park with Bravas. Attendees enjoyed hot dogs, Edy's ice cream, beverages and games. Just like last year, a portion of the proceeds from hot dog sales were donated to our organization. Thanks to Bo with Bravas and to everyone who came out to make the day a success. $400 was raised, which will cover the cost of care for one person for an entire year. Thank you!
No Comments
Tags: Bravas, hot dogs, picnic, Picnic in the Park
---
Annual Swing for Cancer, June 18
Posted on June 4th, 2013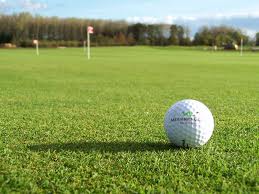 On June 18, the Cobblestone Ladies Golf Association will host the 17th Annual Swing for Cancer to benefit our organization at Cobblestone Golf Course in Kendallville. The event is a scramble and golfers need not be concerned about ability.
Cost: $75 per lady golfer or $300 per team
Includes: Continental breakfast, greens fees, cart, lunch & prizes
Registration: 7 AM
Tee Off: 8 AM
The registration deadline is June 8 and forms are available at our office or by calling Phyllis Weber at (260) 347-1674.
No Comments
Tags: Cobblestone Ladies Golf Association, Swing for Cancer
---
Thank you FPCCFCU
Posted on June 3rd, 2013
Our friends at Fire Police City County Federal Credit Union dropped by last week with a check for over $1,300, which was raised through their Lapper team and cancer tee-shirt sales. We are so grateful for their support!
No Comments
Tags: Cancer Services, FPCCFCU, fundraising, lapper
---