Thank you East Noble Swim Team
Posted on January 30th, 2013
by Linda Bewley, outreach coordinator
"It looks happy in here."
This was said by an East Noble Swim Team member while touring our building, and it brought a smile to my face. We strive to provide a pleasant, uplifting environment for our clients, and to hear a young person voice this told me we are succeeding.
On January 25, representatives from the East Noble Swim Team visited to present the agency with a check and to take a tour of the facility so they would better understand what their donation provides for people with cancer.
$825.30 was given to Cancer Services! Thank you East Noble Swim Team!
No Comments
Tags: Cancer Services of Northeast Indiana, East Noble Swim Team
---
The Impact of Cancer in Indiana (Infographic)
Posted on January 29th, 2013
About 2.4 million Hoosiers or 2 in 5 people now living in Indiana will eventually develop cancer. What impact does that have on our state? The Indiana Cancer Consortium put this infographic together to help answer that question.


Via: Indiana Cancer Consortium
No Comments
Tags: Cancer impact in Indiana, Cancer in Indiana, Cancer Services of Northeast Indiana, Hoosiers, ICC, Indiana Cancer Consortium
---
New Program- Drumming Circle
Posted on January 28th, 2013
Last Thursday, we hosted our first Drumming Circle and had so much fun. A small group joined us and learned the joy in creating noise in order to relieve stress and create connections. Gail Hamm, program director, describes the experience as a fun way to let go of stress. Through drumming, people may express emotions, reconnect with their inner child, and feel a greater sense of purpose as their noise becomes a part of a larger symphony within the group.
You can join us at our next Drumming Circle, which will take place on Thursday, February 28, from 7-8 PM. No experience is necessary and all instruments are provided.
Drumming Circle is open to the community. For more information, call Tina at (260) 484-9560.
No Comments
Tags: Cancer Services of Northeast Indiana, Drumming Circle, inner child, Music, stress relief, symphony
---
New Programs in 2013! Join us!
Posted on January 25th, 2013
We are excited to introduce two new programs for 2013!
Inner Palette™
Join us on Tuesdays from 10 AM to noon for Inner Palette, an expressive experience. Escape to the pleasure of your imagination after a short, relaxing meditation. All art materials will be provided and no art ability or experience is necessary.
Drumming Circle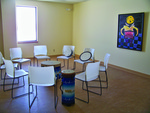 Join us the 4th Thursday of every month from 7 to 8 PM, for Drumming Circle. Come and experience the freedom and joy of play, with no pressure. Express yourself! Instruments will be provided. No musical experience necessary.
Both programs are open to the community. To sign up for these programs, please call (260) 484-9560 or 866-484-9560.
No Comments
Tags: art expression, art therapy, Drumming Circle, Inner Palette
---
Fort Wayne Komets host client families
Posted on January 17th, 2013
On Sunday, eleven of our client families enjoyed a Komets game together. We are often asked about our services for children with cancer. It is our mission to support the entire family on this journey. Bringing the families together, provides them with a support system full of people who truly understand what they are going through. It also gives the kids a chance to support each other. Thank you Fort Wayne Komets for hosting a meaningful event for our clients.
No Comments
Tags: Cancer Services of Northeast Indiana, children's programs, Fort Wayne Komets, Komet Hockey
---